Stable Performance Airport Baggage Scanner Stable / Reliable For Luggage Checkpoints
stars, based on
( 0 )
reviews
Description
Leakage radiation Airport Baggage Scanner, Luggage Checkpoints Security Surveillance Detection System Part
X-Ray Generator Specifications
Orientation: Vertically Upward
Tube Current: 1~1.5MA(adjustable)
Anode Voltage: 150~200 KV(adjustable)
Angle: 80°
Generator cooling/working periods: Sealed oil bath with forced air/100%
Specifications:
Model Number
SF100100
Passageway Size
1000(W)*1000(H) mm
Penetration
mm Steel plate
Belt Max Load:
200Kg
Dose per inspection:
<2Gy/h
Resolving power
38AWG
Film Safety
Guarantee ISO1600 Film
X-Ray leakage
<0.2µGy/h
Ray beam spread angle
80 degree
Tube Voltage
150-200KV
Tube power
1-1.5mA
Cooling/work Cycle
Sealed Oil Cooling /100%
Multi-energy/Distinguish objects
organic objects in orange,inorganic objects in blue,mixture in green
Belt speed
0.22m/s (adjustable)
Display
HD 19''LCD display
High-energy/low energe
Two kinds of energyswitch display
Image restoration
Image display restore the origional status
Product advantage
a Alarm by sounds & light::Alarm by sounds and light when conform to condition.
b Network interface:Could be connect local area network and support multi-terminal check baggage at same times
c Safety ray:Transmit ray under automatic control, avoids the miss
d Image monitoring for user-friendly:The monitor use fold, rotary system, operators d adjusts the monitor position willfully according to own need, reduces wearily.
e Be with Industrial computer system, and Windows operation.
f Flexible combination: CT scanning, Intensifier, panel can be chose.
g Work power 150-200KV, in order to satisfy the different requirement.
h Defective products with NG choose, automatically stop and reject.
i Varying effects image display and picture processing.
j Quantifying image measuring and analysis
k Big size image can be one-time forming
Function Description
a 2* 19'' High Resolution LCD Monitor
b Display Resolution: 1280*1024;24 bit/pixel Color, dual view image
c Contrast Sensitivity: 24 Visible Levels,4096 Gray Level
d Image storage: 100,000 pictures in real time (can be customized)
e Zoom: 64 Times Enlarge, Whole screen continuous observation
f Multi-Energy (M) color material identification: Organic objects in orange color, inorganic objects in blue color, mixture in green color
g Threat image projection (TIP), assist to detect drug and explosive powder
h Edge enhancement: Object contour edge is more distinct
i Super image enhancement: Image detail is more distinct
j. Client's pictures management: Can store in different client codes, and classified manage.
k. Picture save format: Can save into different format, and can all save into the specified file once automatically.
Note:
1)TIP function: to check if the operation work carefully and find out the Dangerous article as setting. The function can be open or close as requirement.
2) The scanning pictures can be zoom in, zoomout and moved around as you like. What's more the pictures are in JPG format, can copy to any where to check.
3)Automatic start-stop motor control, when there is baggage on conveyor, it will run, while none, it will stop.
Certification ;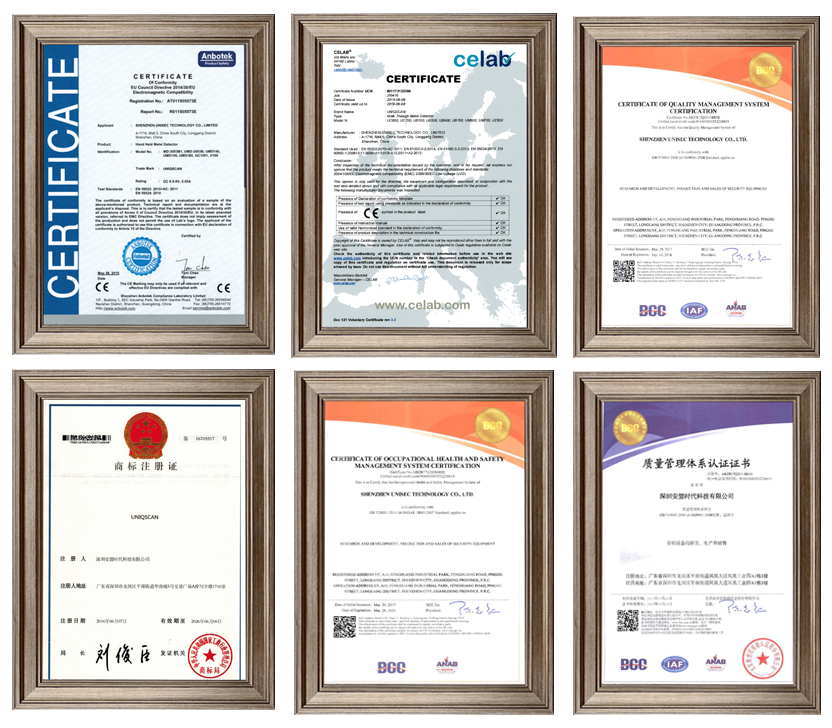 details