4 Multi Zone Metal Detector , 0-99 adjusted sensitivity door frame metal detector
stars, based on
( 0 )
reviews
Item specifics
Gross weight:

45KG
Material:

fireproof material
Power supply:

AC85V-264V
sensitivity:

0-99 adjustable
package size for door panel:

2260*550*235mm*1ctn
Package size for control unit:

750*340*240mm*1ctn
zone:

multi 4 zones
warranty:

12 months
Description
4 Multi Zone Metal Detector , 0-99 adjusted sensitivity door frame metal detector
1. Technical Parameter:
>> Gross Weight: 45KG
>> Power supply: AC85V-264V
>> Working temperature:-20℃--+50℃
>> Working frequency:4KHZ-8KHZ
>> Standard external size:2203mm(H)*860mm(W)*480mm(D)
>> Package size for door panels: 2260*550*235mm*1ctn
>> Package size for control unit: 750*340*240mm*1ctn
2. Characters:
>> Panel display function: digital display, counting the number of passing alarms the number of alarms. LED lights to display positioning prohibited items on the panel.
>> Exlude function for metal objects: can exclude the bra, buttons, belts, jewelry and other metal carry no alarm.
>> Accurate positioning: 4 mutual over-lapping detecting zones.
>> Using high density waterproof material and foot cover, using PVC synthetic material special technology, fireproof, higher shock resistance.
>> Sound and light alarm function
>> Easy assembly: designed with only 2 pieces cables and 8 screws, simply to follow instruction.
>> Password protection, only the authorized person can operate.
>> Harmless to human body: is harmless with heart pacemaker, pregnant women, magnetic floppy, recording tapes, etc.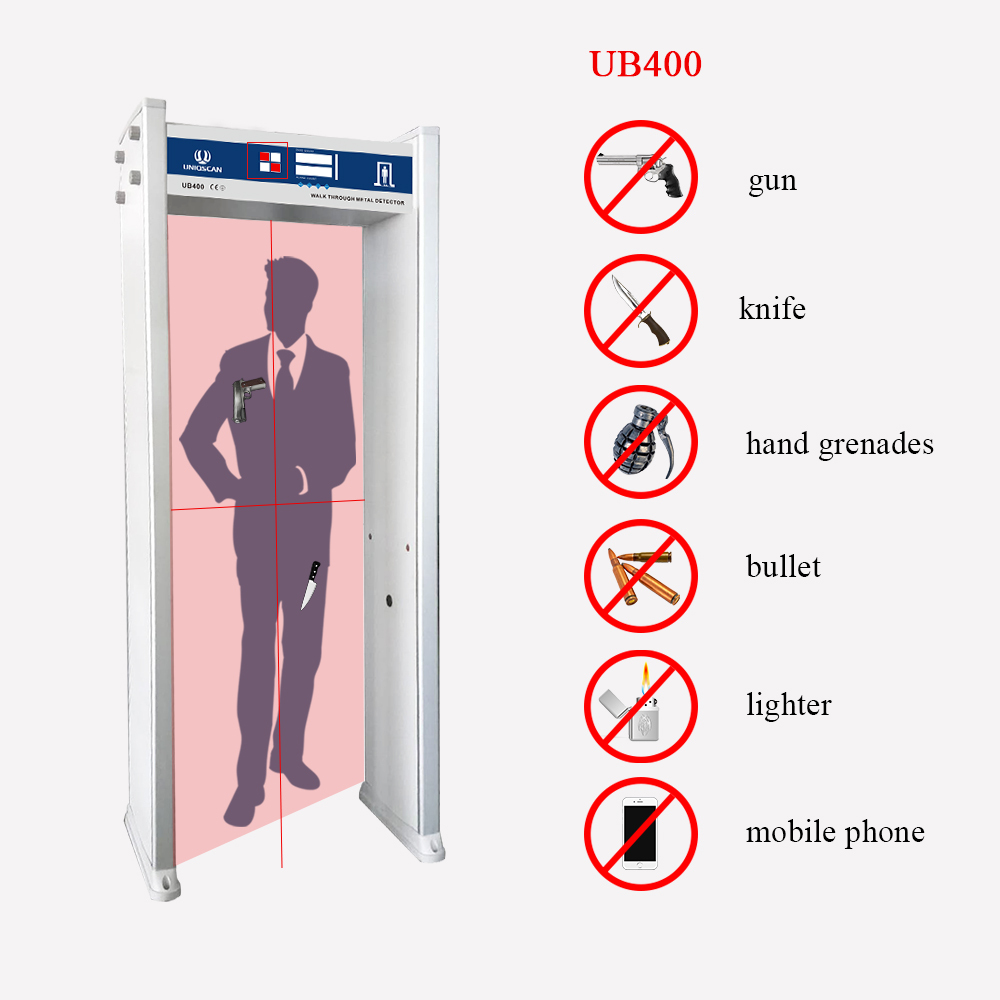 3. Usage condition:
1) Pinpoint Zone Detection
The Uniqscan's exclusive multiple target pinpointing with 4 zones standard shows precise target location on the left, center and right side of the body from head to toe.
2) Program
When the program is self-diagnostic, it does not require initial or periodic calibration, modularization design, easy for maintenance and replacement.
3) Installation
The UB400 design only 2 cables and 8 screws, operation instructions are simple.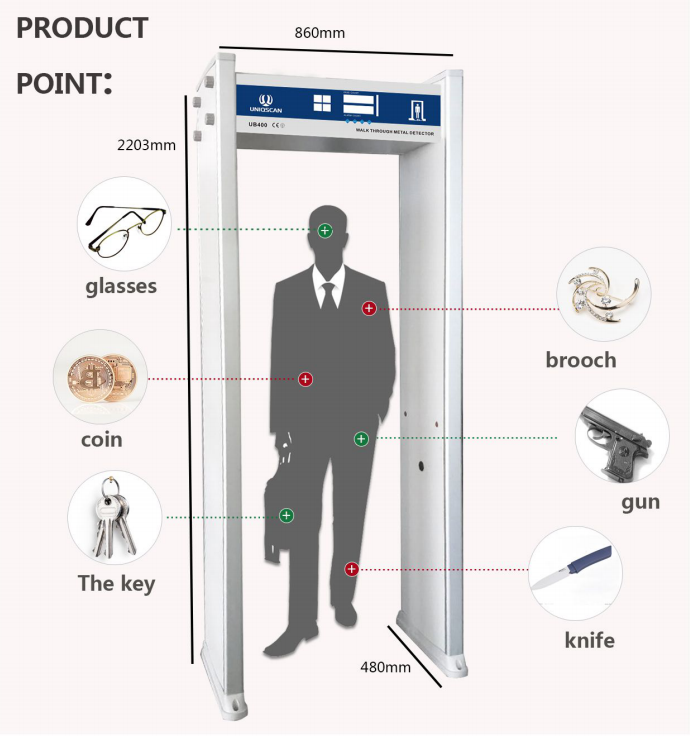 4. Product details: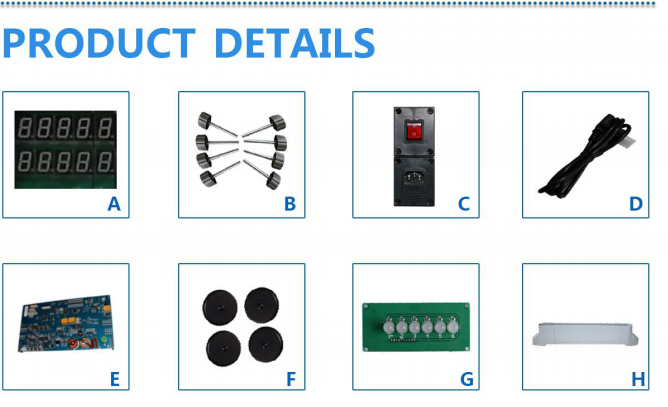 A) 5 Digital LED Count: Easy show & count passengers;
B) 8 Screws: Easy assembly and install;
C) Socket: Easy connect both door pannels;
D) Power Line: Suppor UK/ European/ USA standard;
E) Intergrated Circuit Board: Intelligent circuit;
F) Infrared Sensor: Accuracy check;
G) Tamper Indication: Easy distinguish interference;
H) Foot Cover: Easy fastness
5. Contact information
Sharon Lin
Sales Manager
0086 17875365991