0-99 Sensitivity adjusted Archway Walk Through Metal Detector with Sound & LED Alarm
stars, based on
( 0 )
reviews
Item specifics
Gross weight::

45KG
Material::

PVC panel with fireproof material
Standard external size:

2203mm(H)*860mm(W)*480mm(D)
Standard internal size:

1980mm(H)*700mm(W)*400mm(D)
Packaging size for door panels:

2260*550*235mm*1ctn
Packaging size for control unit:

750*340*240mm*1ctn
Zones::

single zone
Alarm::

Sound & LED alarm
Sensitivity::

0-99 sensitivity level
Warranty::

12 months
Description
0-99 Sensitivity adjusted Archway Walk Through Metal Detector with Sound & LED Alarm
>> Power supply: AV85v-264v
>> Working temperature:-20℃-+50℃
>> Working Frequency: 4KHZ-8KHZ
>> Standard External size: 2203mm(H)*860mm(W)*480mm(D)
>>

Standard Internal size: 1980mm(H)*700mm(W)*400mm(D)
>> Package size for door panels: 2260*550*235mm*1ctn
>> Package size for control unit: 750*340*240mm*1ctn
>> Display function:
1) Count the number of people and the number of alarms
2) LED lights on the panel to show prohibited items, no prohibited items, is green lights; otherwise, is red light.
>> Exclude function for metal objects: can exclude the bra, buttons, belts, jewelry and other metal carry no alarm.
>> Accurate positioning: 1 mutual over-lapping detecting zones
>> Using high density fireproof materials and foot cover
>> Password protection, only the authorized person can operate
>> Harmlss to human body: is harmless with heart pacemaker, pregnant women, magnetic floppy, recoring tapes, etc.
>> Easy assembly, simply to follow instruction
>> Sound and light alarm simultaneously.

Port, airport, Train Station, Hospital, Hotel, Factory, Government, Bank etc.
Usage condition:
Pinpoint Zone Detection
The Uniqscans exclusive multiple target pinpointing with single zone standard shows precise target location on the left, center and righ side of the body from head to toe.
Program
When the program is self-diagnostic, it does not require initial or periodic calibration, modularization design, easy for maintenance and replacement.
Installation
The UB100 design only 2 cables and 8 screws, operation instructions are simple. High density refractories are used to make the product stronger.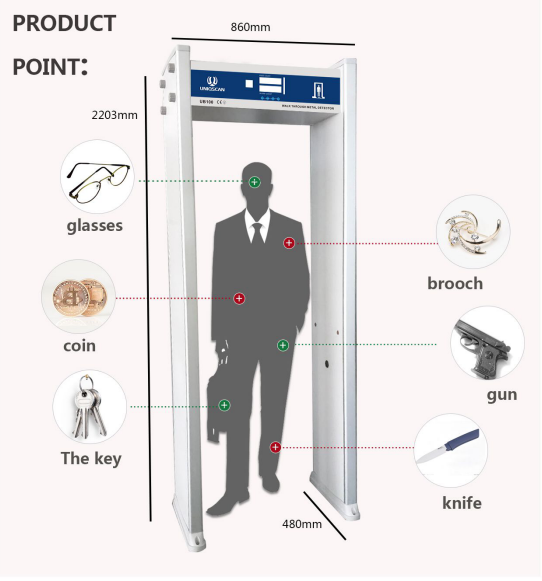 Production process:




Contact information:

Sharon Lin
Sales Manager
Cell/WhatsApp/WeChat:
0086 17875365991